Is my Relationship Hurting Me?
It is important to know that even in a da­ting relationship abuse can take place. Abuse can take many forms, including emo­tional abuse, physical abuse, and sexual and financial abuse. It can occur in casual dating or long-term relationships. To keep safe it is important to identify different forms of abuse and warning signs.
Physical Abuse is…
Hitting or Slapping
Pushing or Grabbing
Choking or Kicking
Burning
Pulling your hair
Destroying belongings
Throwing objects
Threatening to use weapons
Emotional Abuse is…
Name calling or cursing at you
Making fun of your ideas, religion, goals, values
Withholding affection as punishment
Threatening to hurt themselves or you if you ever leave them
Criticizing the way you look, dress, etc.
Confusing you with lies and contradic­tions, constantly accusing you of cheat­ing
Isolation, cutting off all your relation­ships so that you have no one to turn to
Keeping track of everything you do
Trying to control what you wear, who you see, where you go
Sexual Abuse is…
Rape or forced sex
Unwanted sexual practices
Unfaithfulness
Inappropriate Language
Unwillingness to use protection
Financial Abuse is…
Preventing you from working or going to school
Harassing you at work/school
Controlling your money or refusing to work or let you work
Buying you gifts and expecting something in return
Teenage girls suffer more often from rela­tionship abuse, emotionally and physically. They are much more likely than teenage boys to have serious injuries. Teenage boys are, however, victims of abuse, though it is more often psychological than physical.
If you're in a dating relationship that in any way feels uncomfortable or even frightening, trust your feelings and get out of it. It could become, or may already be, abusive.
Jealousy is NOT Love. T
his is not an expression of love but a sign of fear and insecurity. Jealousy is no reason to I tell someone what to do or to whom they can talk. Some guys/girls may choose jealousy as an excuse to vent anger, to threaten or act violently towards you. These actions are not healthy—they're just a way to control you!
Always remember:
You have every right to say NO.
No boyfriend or girlfriend has the right to tell you what you can or should do, what you can or should wear or what kind of friends you should have.
You are not alone-1/3 of all high school and college students will have been in an abusive relationship by the time they graduate.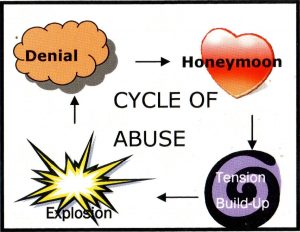 Phase 1: Tension Building: Increase in tension, anger, blaming, arguing con­stantly. The victim is scared to do or say anything.
Phase 2: Explosion or battering: Physical violence takes place, hitting, slap­ping, sexual abuse, use of weapon and verbal threats of abuse
Phase 3: Denial: Abuser minimizes the abuse or pretends nothing hap­pened. You tell yourself that the abuse isn't that bad. You make ex­cuses for your partner's behavior to your friends and family.
Phase 4: Honeymoon Phase: At this stage, the abusive partner tries to ensure that their partner doesn't leave. They are more likely to be romantic, buy gifts, and act kind and giving.
Abuse continues. It is up to YOU to break the cycle.
IF YOU ARE IN AN ABUSIVE RELATIONSHIP, CALL THE FSN CONFIDENTIAL CRISIS LINE AT 284-499-0999
IF YOU ARE IN IMMEDIATE DANGER, CALL THE ROAD TOWN POLICE AT 494-3822
OR
If you've been hurt, call 911
Is my Relationship Hurting Me?